Bamboo Pillows
2 products
We have two types of bamboo pillows, which offer different attributes but both grant a magical nights sleep. Our memory foam pillow cradles the head and neck during sleep, feeling firm but providing a lot of support. Also, it has cooling gel pad to keep your head cool on those warm nights.
Our 100% bamboo pillow is soft and fluffy. This pillow is filled entirely with 100% bamboo material, which makes it soft while still being supportive and fluffy. As a result of the bamboo filling you receive all the natural health benefits of 100% bamboo products. You will feel like you are sleeping on a cloud with the bamboo filling and the bamboo outer cover, which provides a smooth finish and incredibly soft feel.
What is a Bamboo Pillow and How Does It Compare to Traditional Pillows?
What is a bamboo pillow?
A bamboo pillow is a pillow made using some bamboo material, if that be the cover, filling or the entire pillow. 
What are the benefits of using a bamboo pillow?
There are many benefits for using a bamboo pillow. Bamboo is naturally antibacterial, antimicrobial and hypoallergenic. This means bamboo is great for people who suffer from sensitive skin and eczema. Also bamboo is perfect for people who overheat or suffer from night sweats. Bamboo is naturally breathable and temperature regulating due to its natural micro gaps. These micro gaps hold cool air close to your skin, making a cool layer that is perfect for those summer nights. During the winter, however, it is densely insulated.
How does a bamboo pillow compare to traditional pillows?
Sleeping with a bamboo pillow complete with a set of bamboo pillowcases is a sensational experience. Bamboo material has luxurious silky soft feel, without the harmful process of silk farming. You can enjoy all the natural benefits of a silk like material whilst knowing it is sustainable and environmentally sourced. 
Can bamboo pillows cause acne?
No, it will help reduce your symptoms, bamboo naturally absorbs and wicks away moisture, like sweat or wet hair. However, it does not absorb and wick away your natural oils from your skin or hair, so it will not dry your skin out. Also, being naturally antibacterial this helps keep away bacteria from your face. 
How long should you keep a bamboo pillow?
If cared for properly their is no issue with keeping your pillow for many years. Our memory foam pillows come a with a 100% bamboo outer cover with a zipper which can be removed and washed, it also has a bamboo mesh fabric around the pillow which is not removable. Our, 100% bamboo pillow should not be machine washed as this can make the fibre bunch up, spot cleaning is advised for this. 
Understanding Pillow Fill Materials: Memory Foam vs. Bamboo Fibre
What is memory foam?
Memory foam is a special type of foam that people use in mattresses, pillows, and other products for a more comfortable experience. It's made from a combination of different chemicals, like polyols and isocyanates, which are mixed together to create a liquid mixture. This mixture is then poured into moulds or shaped into the desired forms. 
What is bamboo fibre?
The bamboo is harvested and then cut into slices. The slices of bamboo are refined into a pi with a biological enzyme. Over time the pulp becomes bamboo cellulose. This fluffy pulp will the be placed inside the pillow cover which is also made from 100% bamboo fabric. This fabric is made the same way but fibre is woven into fabric. The fabric is dyed with active (vegetable) dyes and a fixing agent is added. The fabric is then cut and sewn. 
Which pillow fill material is the most breathable and eco-friendly?
100% bamboo is they way to go for most breathable and eco-friendly. The temperature regulating benefits keep it cooling and refreshing in the summer nights and warm in the winter. Also, our bamboo is ethically sourced to OEKO-TEX Standard 100. All bamboo used in the production of our product range grows naturally without the need for fertilisers or pesticides. Natural rainfall is sufficient for the bamboo to grow, and it is entirely sustainable and a renewable resource.
Which pillow is best for comfort and support?
This is down to personal preference, our memory foam is soft and firm making perfect for those who prefer a firmer pillow. Our 100% pillow is soft and fluffy which is preferable for those who like to snuggle in their pillow.  
Shop Now
Choosing the Right Bamboo Pillow: Factors to Consider
What should you look for in a bamboo pillow?
Ultimate comfort preferences
Eco-credentials
Airflow
Softness 
Moisture & odour wicking properties 
Reliable support 
Size, make sure it fits your pillowcases
Should you use a pillow protector with your bamboo pillow?
You do need to use a pillow protector with our pillows, you just need pillowcases. If you use a pillow protector which is not 100% bamboo you will not receive all the benefits from the bamboo fabric.
What are the different types of bamboo pillow covers?
Their are many bamboo pillow cases out there but the best ones to use with a bamboo pillow are made from 100% bamboo. This will ensure your using biodegradable products and receive all the natural benefits. 
Shop Now
Why Choose Bamboo Pillows for a Good Night's Sleep?
What are the benefits of using a bamboo pillow for people with allergies? 
Due to the hypoallergenic properties, it repels dust mites and other allergens that can cause allergies. 
How do bamboo pillows regulate temperature and prevent sweat?
Breathability: bamboo fabric is breathable and allows air to circulate more effectively than traditional fabrics. This helps regulate your body temperature to great a cooling effect which will help keep you cool all night. 
Why are bamboo pillows a good choice for people who want to reduce their environmental impact?
Bamboo is a super plant compared to cotton and other materials. Bamboo does not require the use of fertilizers and pesticides to grow, all it needs is natural rainfall. Bamboo is know as one of the fastest growing plants in the world, on average bamboo van grow between 3 to 91 centimetres a day, some species can grow even further. Compared to cotton which requires tens of thousands of litres of water just to produce one kilogram of cotton lint, including fertilisers and pesticides. 
What are some of the best duvet and bedding options to pair with your bamboo pillows?
If you are considering purchasing a 100% pillow, you should consider purchasing the full 100% bamboo bed set and duvet. We supply 100% bamboo bed linen and 100% bamboo duvets and mattress protectors. If you are wanting to experience the full natural benefits of bamboo and you are wanting to help create a greener planet, these products are for you. 
Shop Now
Care for pillows
Plump the pillow regularly
Spot clean if needed and leave to air dry before using
Do NOT machine wash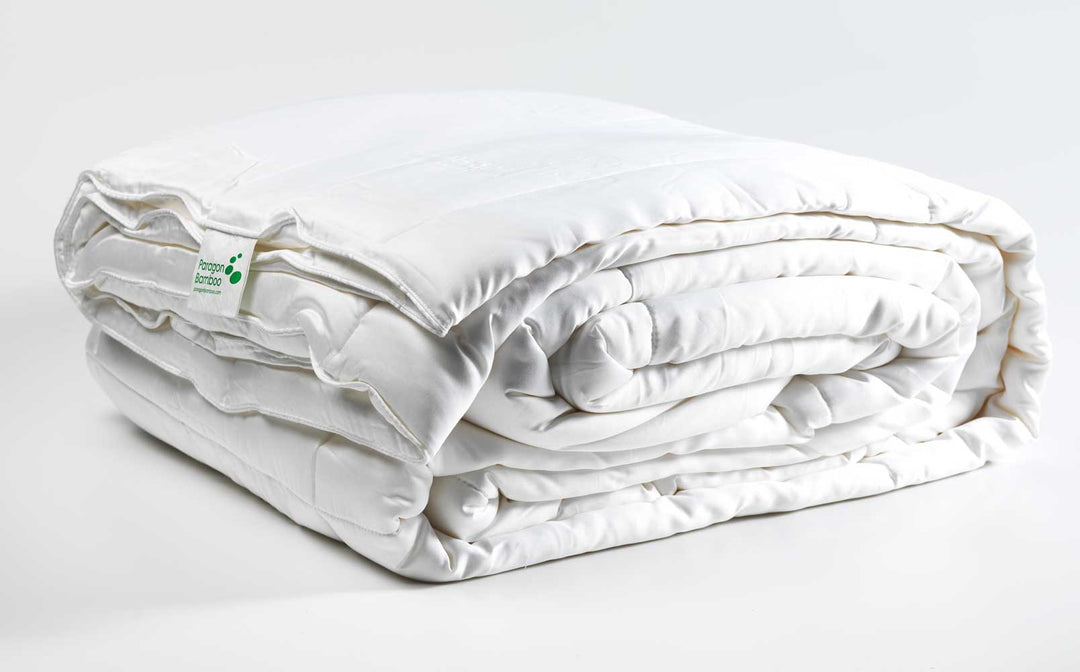 100% Bamboo Duvets
Our 100% bamboo duvets offer year-round comfort. They are available in two weights and five sizes and are made entirely from 100% bamboo fabric. This includes the filling, stitching and outer cover. You will find them soft, flexible, and comfortable.
Shop Now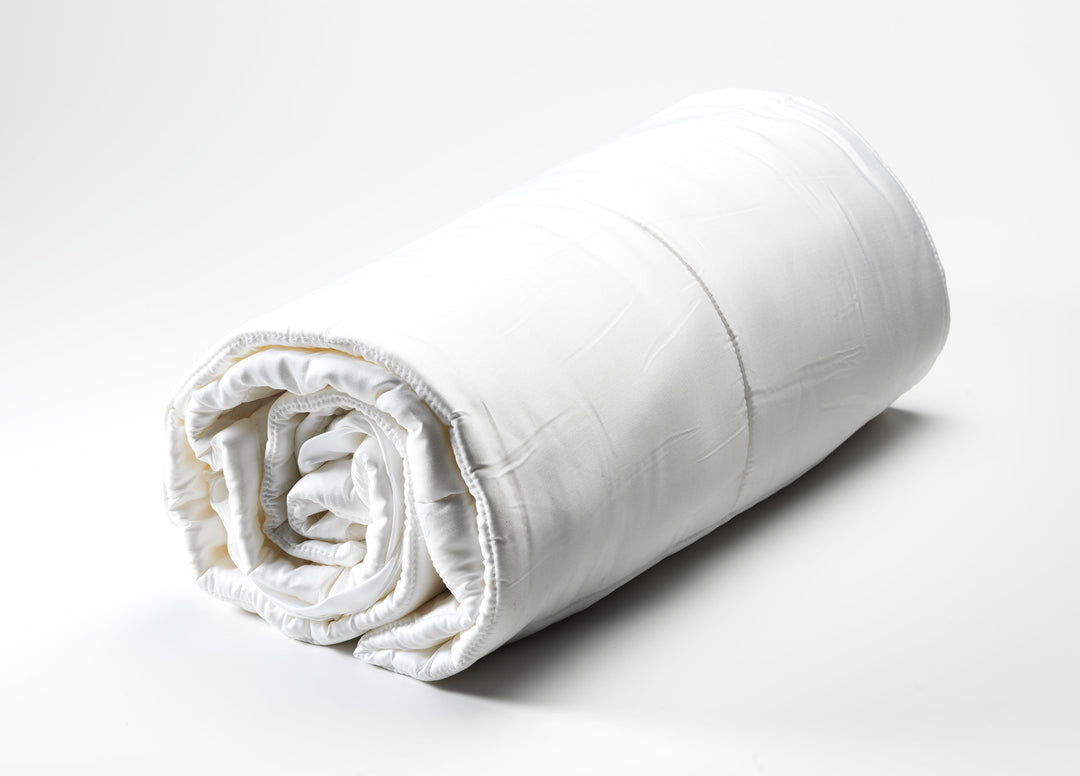 100% Bamboo Mattress Protectors
Our 100% bamboo mattress protector has bamboo filled pockets, deep sides & is elasticated all around, making it easy to fit & ensuring it stays in place with an extra layer of comfort & protection for your mattress.
Shop Now
100% Bamboo Pillowcases
Our Bamboo Pillowcases are made entirely from 100% bamboo. They're available in 9 beautiful colours and in 2 different styles. They will help aid an unrivalled night's sleep thanks to the silky-soft feel of the 100% organic bamboo fabric.
Shop Now